Celebrate Swell's 110th year pushing down the forested waterways of the Pacific Northwest by exploring Alaska's wild frontier. As a guest of passionate, gumboot-clad locals, you'll have time to soak up the rhythm of life here on this slow route through all of the Southeast.
For a limited time, for new bookings on upcoming August 2022 Alaska Supervoyages (11-days) we'll include flights between Seattle Airport and your starting and finishing port.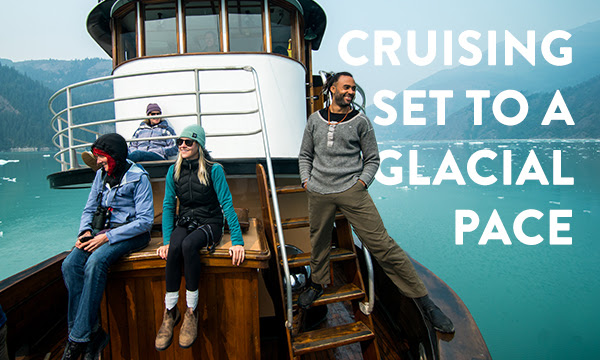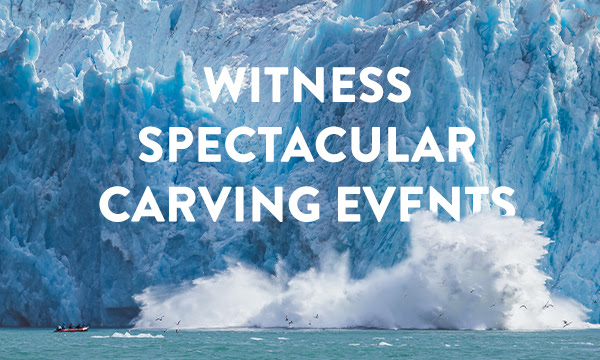 If the water is our road, then Frederick Sound is our freeway. These glacier-fed waters are home to some of the world's smallest and largest marine life—from tiny phytoplankton to mighty megafauna. In the summer months, the region becomes a vast feeding ground for humpback whales, orcas, porpoises and other oceanic predators. One of the best places on Earth to observe their feeding behaviors, a multi-day expedition provides ample opportunity to see marine mammals breaching, fin slapping or demonstrating culturally-learned hunting techniques. Seeing one of these ocean giants breach the water's surface, crashing back down in an eruption of ocean spray, is an experience that transcends most kinds of travel.

Earlier in the season, we have opportunity to see brown bears in their mating displays, foraging, browsing or clamming in the low tide. You might catch a glimpse of mothers teaching their cubs to forage, spot sleeping bruins in grassy day beds, and wander trails stamped out by generations of bears. From mid-July to mid-August, brown bear activity really picks up as a bounty of salmon fill the creeks; special permits and careful people management allow exclusive access into the lives of Alaskan brown bears, as they fish for salmon and go about their day.

Few expressions of art have broken the barrier between the natural and supernatural world quite like those of the Indigenous peoples of Southeast Alaska. Over the millennia, Tlingit and Haida have developed totems in which human and nonhuman traits are combined, interwoven and transmutated. They are great ancestors, protectors and occasionally adversaries. Walking amongst these great monuments will evoke an immediate sense of place, and park guides provide context to enrich your experience. On trips with a land day in Sitka, guests occasionally get the opportunity to meet Tlingit carver, Tommy Joseph. He's a master of his craft, spending his days with ravens, whales, bears, salmon, and sea monsters. The creatures captured in his work are symbolic in Tlingit culture—telling stories of a richer way of life.

You might notice a chill in the air as Swell plies into glacier territory—Endicott or Tracy Arm. The sheer faces of blue ice are only truly appreciated as we hop into zodiacs, nudging through a field of 'bergy bits' for a closer look. We hear the bark of harbour seals ('blubber slugs') lounging on the ice pans as we approach; the glacial fjords provide a haven for seals to give birth and live a relatively carefree life as predators such as orcas rarely venture this far up. Amid the rumble, our group watches thousand-year-old ice crumble spectacularly into a turquoise sea. There's a hiss and crackle of tiny ice chunks all around as they melt into the water, while terns swoop above, calling out. Our expedition guide pulls a clear bergy bit into the boat and takes it back to Swell for drinks—a long-held tradition aboard Swell.

Explore Alaska's Southeast aboard the region's most unique passenger vessel: a historic tugboat built from Pacific Northwest lumber, and that spent her life as one of the icons of this coastal world, towing steel, log booms, goods, and barges amid the islands and channels of the Inside Passage. Travel aboard Swell differs from a cruise ship experience because the very nature of it is to experience the natural and cultural history of the place in a really authentic, small-scale way. With a modest 12ft draft, she can squeeze between pinched shallows where the big cruise ships dare not sail. And she does so at a glacial pace, allowing us to reclaim the time and tranquility to make meaningful connections with the natural world around us.


Alaska Adventure (10-Days)


2022 Dates:
Jul 15 – 25 (1 cabin still available, Sitka Spruce)


All-inclusive fare: $10,850 | $11,850 | $12,350 CAD plus $200 sustainability fee and 5% GST


2023 Dates:
Jun 14 – Jun 1
Jun 23 – Jul 2
Jul 3 – 12


All-inclusive fare: $11,400 | $12,450 | $13,000 CAD plus $200 sustainability fee and 5% GST


Alaska Supervoyage (11-Days)


2022 Dates:
Jul 26 – Aug 5 (sold out—waitlist)
Aug 6 –16 (3 cabins available, Douglas Fir, Arbutus, Sitka Spruce)
Aug 17 – 27 (3 cabins available, Cedar, Western Hemlock, Red Alder)


All-inclusive fare: $12,100 | $13,200 | $13,750 CAD plus $200 sustainability fee and 5% GST


2023 Dates:
Jul 15 – 25
Jul 26 – Aug 5
Aug 6 –16
Aug 17 – 27


All-inclusive fare: $12,700 | $13,850 | $14,450 CAD plus $200 sustainability fee and 5% GST