Two brothers from Dalmatia, supported by their families, continued years long tradition of sailing and ship making. Katarina Line and Naran?a brothers Ante & Damir have been working together successfully for many years in the past.
Cooperation started in early 90's when Damir worked as a sailor on our legendary B category ship Vrgada. Later, in 2003, the family reconstructed vessel LOPARgiving us one of the finest A category ships at the time – which they manned together with their, always smiling,  father Rade.
Lopar is still a proud member of Katarina Line fleet, currently owned by 2 other families, as the brothers moved on to new adventures by building one of our first A plus category vessels – the stunning MERIDIJANin 2006 and the amazing DIONIS in 2009 (where now young Rade,
Ante's son, is the captain).
In 2013 Katarina Line introduced a new category in our fleet – DELUXE – joined by the latest vessel from Naran?a family – our wonderful ship FUTURA which has won a BEST DELUXE SHIP award in Katarina Line for many consecutive years. As Damir is the captain of Futura, there had to be a deluxe ship for Ante as well, so this year – 2016 – we were thrilled to have the first deluxe ship with balconies – the INFINITY – cruising on our new deluxe one way program.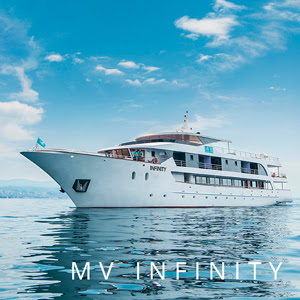 But the brothers aren't stopping there. We are very pleased to go into 2017 with yet another amazing new ship from this wonderful family – the brand new AVANGARD, details of which you can find below.
We are very happy to be able to have such strong relationship with this family who has provided us with excellent ships and impeccable service from the early days till today!
They are not the only family dedicated to ship making. There is a whole town of sailors and captains in Croatia, with the small shipyard where all these gems are made. Each of them has their own story and they are willing to share it with you if you join them on this wonderful experience of Croatia cruising.